Receive All the Rewards of Dental Insurance Without the Hassle.
No Deductibles
No Yearly Maximum Benefits
No Exclusions for Cosmetic or Elective Care
Member Advantages
Complimentary preventive care: cleanings, exams, & x-rays.
15% discount on all restorative, elective, or cosmetic treatment.
Easy,affordable monthly payments.
Plans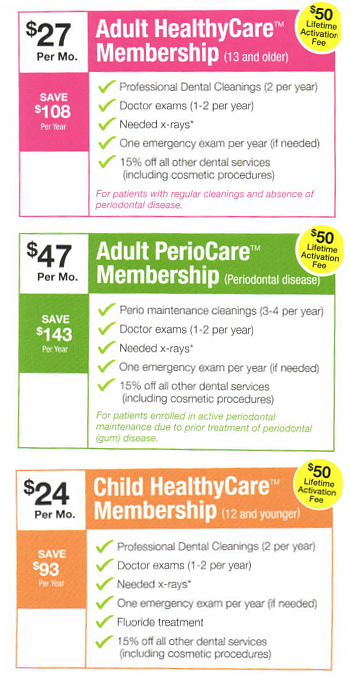 Lifetime Activation Fees include First Month's Dues!
Legal & Disclaimers
* Membership is NOT insurance but a payment plan provided by James King, DDS and is not transferable to other dental offices. Payment for any cosmetic or restorative treatment is due at the time of service. Membership dues must be current in order to receive plan benefits. A lapse of more than 28 days in dues will require a reactivation fee of six months dues. Membership may not be combined with any other discounts. It is solely the patient's responsibility to schedule and keep their appointments. No refunds will be provided for dues paid under any circumstances, including failure to schedule and maintain appointments. Monthly dues and fees for dental services may change at any time. Payment management services will be managed by Stripe®.
** Needed X-rays are determined at the time of the exam by the Doctor.